Reviews for Baker Chiropractic
---
Lisa
I was in excruciating pain, barely able to walk. After testing Dr. Paul said I had 9 pinched nerves and a lot of trauma. My first massage was painful for me but it was also painful for the therapist. He worked over an hour on me, trying to release muscles that were like concrete. Dr. Paul and all of his staff said that they would get me walking without pain. Dr. Paul and his staff have been very compassionate and encouraging.
---
Nicole
Truly my only regret is not coming in sooner. My baby is breech and I was dealing with hip pain and thought the hip discomfort was just normal for pregnancy. After my visit, I sat "Indian style" at home that evening for the first time since February without pain…it's now the end of July – that is a long time. Not to mention the staff was extremely sweet and knowledgeable!
---
Joe
I was very impressed as soon as I walked in from my 1st visit filling out paperwork in the front lobby. I noticed a lot of interaction of staff with patients in a friendly & professional manner & smiles. I got the feel that Baker , genuinely wants to help its patients. The "diagnostic" printout of my ailments & spine & neck issues & the technology used to obtain that data is impressive.
---
Rhonda
Very pleased with the personal touch.
---
Deborah
Everybody in the office is so personable and friendly. Very nice and different experience!
---
Joseph
Love it! Very professional! Very helpful!
---
Peggy
Call from doctor very unexpected…and very nice. Staff were ALL friendly. I was very impressed!
---
Cerrissa
Thanks you all are great. I came in I was in so much pain. I felt great when I left. I feel like I'm on my way to getting my quality of life back.
---
Carmen
The staff were very friendly and helpful during my first visit. I was pleasantly surprised at the thoroughness in exams/treatment at first visit.
---
Beth
So happy to start the healing after months of pain!
---
Howard
First chiropractic visit ever. Dr. Paul Baker and his staff are the best!
---
Chris
Very wonderful experience.
---
Deborah
I would recommend you to all my clients. Excellent service!
---
Delores
This was my first time going to a chiropractor. I was a skeptic simply because I never really knew what they did. Only heard that they crack your back. Well after talking to the staff and Dr. Garrett he assured me that this was not done. Chiropractor adjust the spine back to the position it should be in. I had had a spasm in my neck which was still hurting, well after I got my adjustment to my neck and other spine location, I left feeling much better, with a smile on my face, I could turn my head. Had the best night sleep in months, and yes I will be going back. Thank you staff and Dr. Garrett.
---
Jane
Everyone was so welcoming and so upbeat. That means a lot when someone walks in with pain or injury. Thanks for all your help!
---
Susan
The first visit was beyond my expectations. Everyone was so nice and made you feel very comfortable from the first hello. The team immediately instilled a belief that my back issues can be resolved with treatment. Being a nurse I was a little skeptical. However, the team has my belief in them 100%. I will definitely be a walking, talking bill board for Baker Chiropractic services!
---
Melissa
Everyone made me feel very comfortable. I was a little nervous about my first visit. The staff and doctor explained everything and I felt much better after my visit. I will be going back. Melissa H.
---
Jill
I can't believe that I am free from pain with this one visit. I have been in pain since December and with just one visit I am feeling amazing. I really appreciate the attention that I received along with the concern regarding my treatment. I so look forward to working with you all again. Dr. Paul is wonderful. Jill T.
---
Cheryl
Enjoyed my visit. Staff excellent. I am looking forward to a healthy and happy relationship with Baker Chiropractic! Cheryl B.
---
Stacey
Dr. G is awesome. Thanks for educating me and making my first appointment great. Stacey W.
---
Megan
Truly impressed with my first visit! I have never visited a chiropractor before this visit and I feel optimistic that Dr. Baker can help! Every step was explained, and I felt totally at ease. Recommend! Megan G.
---
Alyssa
Staff was great, and Dr. Baker was wonderful. I was long due for an adjustment and the one I received was great. Thank you all! Alyssa R.
---
Jennifer
I felt the staff had my best interest at heart and very friendly. Jennifer M.
---
Victoria
I was very unsure of what would happen but the staff made me feel very comfortable. The doctor was amazing, very thorough explanations of what was going on with my neck and back. Great experience! Victoria H.
---
Joanne
I was extremely impressed with my experience and the staff. My first visit left me with a feeling of hope. Joanne S.
---
Stacy
Thank you so much to all the staff at Baker Chiropractic and Wellness. I have only been seeing you all for two weeks but I am already feeling better. I don't feel as tense and a lot of my pain has been relieved. Thank you for all you do and I am glad to be part of the Baker Chiropractic and Wellness family. Thanks again. Stacey O.
---
Marla
I was very excited to find out there was help out there for me. The pain that I've been in the last 3 years, I walked out of Baker's Chiropractor with hope. I am looking forward to the healing plan Dr. Garrett has put together for me. I wish I had found this treatment years ago. The staff is awesome! Marla L.
---
Janet
I love this place! Dr. Patrick Baker has always been a favorite of mine! He's awesome. A real people person. One can tell he genuinely cares about his patients. I will never go anywhere else. Janet B.
---
Amy
The staff is extremely friendly and knowledgeable. They explained what was going on with my body and the actions they were taking to help relieve my pain. At Baker Chiropractic, the staff goes the extra mile to help their patients. Amy V.
---
Rosemary
Well, I assumed that my first visit would be like a trip to my PCP. I assumed that when my appointment was at 5pm… I'd probably be seen about 6:15 or 6:30. Well, I was wrong there. I was seen before 5:20pm. I love the team spirit and everyone worked well together. I love that your agenda is all about the client/patient. The education piece was mind blowing, amazing, very visual, very informative. I heard Christian music playing today. (Very good in my book) I love the spirit in the Redbank office. … very caring, knowledgeable, understanding and wellness focused. Keep up the awesome work! I will tell others about Baker Chiropractic and Wellness. Rosemary A.
---
Kory
Everyone was friendly and made me feel comfortable. Kory C.
---
Jerry
Very professional and wholistic approach! Jerry F.
---
Bill
In one visit, I already feel much better. Bill H.
---
Trisha
I felt I had a truly personal exam, that showed their was actual concern and hope for me to feel better without surgery. Trisha H.
---
Jean
I choose Baker Chiropractic for two reasons, one of course is to get to the bottom of my back, neck, leg, arm, head, etc. problems. The second was to find a doctor who understands and will inform me of the science of my problems. At one time of my life I was a professional Law Librarian in NYC. Information is my bag. Information regarding my health has to make sense; medication and shots with no explanation never made sense to me. Definitely feel silly now for sticking with the drug and shot routine for so long. I am and have been a healthy person. Today, I am battling another strong woman, Mother Nature! This aging process ain't for sissy's. If you don't understand the what and why, you will die! My grandchildren are so dear to me, I want to enjoy them for a long time. Today, I have hope and no longer feel like I am turning to stone. I am so very thankful for being introduced to Baker Chiropractic. Jean S.
---
Jennifer
I'll be back in about an hour for my follow-up, am intrigued to hear about the treatment plan. Already learned a lot, I had no idea what was going on in my back! It's interesting to learn new things about my body and the staff is not only helpful and friendly but very educational. They were very kind about the fact that I was late. Total disclosure: I was skeptical about chiropractors coming into this (biased by family members with old-fashioned notions), but I feel much more comfortable now! Jennifer C.
---
Geraldine
I was very pleased, the next morning my leg pain was completely gone, 3 days later and I have not had any soreness or shooting pains in my leg. I can't wait for my back to be pain free, I will say it is much improved after just 1 adjustment. Geraldine Bush
---
Harry
I'm a 62 year old retired concrete man. I have been doing concrete work for 40 years with 30 years of back pain. I have had two carpal tunnel surgeries and one shoulder surgery. I do not believe in taking pain pills and w ill not have back surgery. My dad and brother both had back surgery and it did them no good. My daughter was seeing Dr. Baker for back pan after having two children and she asked me to try him. I did not believe in chiropractors. I decided it could not hurt so I called. Within four weeks of three times per week visits my pain was less and after eight weeks it is almost nonexistent. I went in one day on crutches with groin pain and came out without them. I can move my neck right and left further than I have ever been able to. I did not know what it was like to live pain free again. My sex life has doubled, which was an added bonus that makes my wife very happy. I can get down on the floor and play with my grandkids again. I can shovel snow and work on restoring my 1955 Chevy, all without pain. If something does hurt I just tell Dr. Baker and he fixes me right up. I am a happy captain now. The staff is excellent and ready to help with anything. They work with you and your insurance. I enjoy coming in for every appointment. I can not describe how much better I feel. If I hadn't experienced it for myself I would never have believed it. My son is now seeing Dr. Baker for his back after he had a wreck in 1998 and broke his back. He is feeling a lot of relief already and it has only been a short amount of time for him. I would recommend Dr. Baker for anyone living with any kind of chronic pain. Thank you to Dr. Baker and all his staff! Harry L. Holbert Sr.
---
Murray Family
I first found Baker Chiropractic after injuring my back. I was standing on a patch of ice while lifting my 5-year-old into her car seat. I started to slide and twisted in an odd direction to avoid dropping my daughter. I felt an odd sensation in my back when I fell then the pain started. I spent two days in bed using ice and heating pads. Nothing was helping. I had always been rather skeptical chiropractics believing it was gimmicky nonsense. At this point though with three young children and being in such pain I became desperate. I made my appointment and met with Dr. Baker still quite skeptical. When my adjustment was over I was amazed at the relief I felt. I was able to move again. I admit I was shocked how well it worked. My mother suffered from a lot of neck, back and joint pain. After hearing and seeing how much I was helped by my adjustment she decided to give it a try as well. Very skeptical at first she has now become a regular at Baker Chiropractics. After being a client for a while Dr. Baker told me about how chiropractics can help ADD & ADHD. Unwilling to medicate my 5-year-old for her ADD I decided to start bringing her in for adjustments as well. She loves Dr. Baker and her adjustments. She talks about how they make her feel better. My 88-year-old grandmother lives overseas in the Netherlands. She suffers from major neck pain due to degeneration. Dr. Baker has started giving her adjustments when she visits us. After trying everything in The Netherlands from injections in the neck to deaden the nerves to major pain killers we have finally found something that helps her pain, adjustments at Baker Chiropractic. Now nearly a year later Dr. Baker is now treating four generations of women in my family. I am very happy I found Baker Chiropractic. Mara Murphy
---
Brenda
Several years ago after childbirth I started experiencing pelvis and back pain with popping and cracking. When I would walk I would be in extreme pain. I started seeing a chiropractor with no relief then I went to another chiropractor and still no relief. It was a chronic issue that I thought I would have to live with. Then I see a commercial about Baker Chiropractor. I knew I had to do something. The pain was unbearable. I started seeing Dr. Baker, he gave me therapy and adjustments and he adjusted my hips, something no one else had done. At first I thought this is just another method that is not going to work. Suddenly after several weeks of adjustments I am getting relief and the pain is easing. Then I asked him about an old injury that aches all the time, it was a cracked rib that never healed properly, he treated it with therapy and adjustments and it no longer hurt. I felt he could heal everything at that point. I told him about having TMJ and the headaches that go with it, he uses a special tool and couple of appointments the headaches are gone. I got hurt playing volleyball and hurt my calf. I had it x-rayed and they said the muscle had separated from the bone and they gave me a brace and told me I needed physical therapy. I saw Dr. Baker and he gave me physical therapy and I helped that to heal. But the worse thing that has happened to me was during a yoga class the yoga instructor was adjusting my body to a posture it could not do and something popped. I went to an orthopedic doctor who x-rayed my back and said I had three discs that were like pancakes and I had a pinched nerve in my sciatica. He referred me to a pain management doctor who gave me shots in my back to numb the area. This was very expensive and only lasted about two-week. I went to Dr. Baker and told him what happened, he has been treating my pinched nerve but he also is giving me strengthening exercises and I can honestly say I am pain free. I recommended to all my friends and family to go and see him whether they are hurt of not but he believes in wellness and preventive methods. I feel he is my miracle worker because I thought I was going to have to live with my chronic pain the rest of my life. My husband is so thankful for all the treatment he has given me. His office is very laid back and the girls that work there (Jennifer and Danielle) really try to get to know you and treat you like you are a part of their family. So if you are injured in any way and a doctor tells you surgery is the only option, I say go to Dr. Baker first, because sometimes there are other options and for me it is Baker Chiropractor. You have changed my life. I just want to say thank you Dr. Patrick Baker for making me pain free. It could not have happened without you. Brenda Miller
---
Marcia
My name is Marcia Wray. Throughout the 1990's I was seeking treatment for irritable bowel syndrome (IBS). I began with my family doctor, and eventually I sought the services of several specialists, with no results. Every one of these doctors told me that my symptoms were either all in my head, or stress related. I was even told that I should change my career path because there was nothing they could do for me. In late 1999, while in nursing school, I saw a commercial for Baker Chiropractic recommending chiropractic care for the treatment of IBS. By this time, I was desperate and was willing to try anything. I was quite skeptical of chiropractic doctors because the curriculum in nursing school doesn't speak highly of this type of treatment. But with an open mind I made an appointment to see Dr. Paul Baker in the Redbank office. Within one week I was seeing substantial results. I was feeling better, I was sleeping better, and I was more comfortable. I didn't have to try out various medications worrying about side effects or go through any embarrassing procedures. I finished the treatment plan that Dr. Baker set up for me, and was beginning the maintenance plan when I was involved in a car accident in January of 2001. I immediately called Dr. Baker after my accident, and he treated me for neck and back injuries, allowing me to regain full function and continue nursing school. Once I graduated nursing school, I got married and started a family. Dr. Baker treated me for sciatic pain while I was pregnant, which gave me the ability to walk and sit comfortable during my last trimester. I have since moved to the Fairfield area and I have been working at Bethesda North Hospital for nearly 7 years. And I still see Dr. Patrick Baker, who has treated me for vertigo as well as the aches and pains from working 12 hour shifts as a floor nurse. No longer skeptical of what chiropractic care can do, I trust both Drs. Baker so much that I have had both of my children in for adjustments, and I have seen instant results with them as well. Symptoms such as ear aches and (believe it or not) the common cold are treated through spinal adjustments, and the symptoms go away much quicker than treating with over-the-counter medications. I know that if I ever have any questions or concerns, I can call either Dr. Baker at any time, and get a straight answer to my question. I cannot recommend highly enough either of these doctors, and the services they have provided for me and my family have allowed me to live an active and full life. In a perfect world, where everything is adapted to be 'ergonomically correct', perhaps these services wouldn't be needed. But The demands of nursing – boosting patients, 12+ hour shifts on the concrete floors, and everything else that the hospital (and the patients) throw at you – can wreak havoc on your body. Thanks to Drs. Patrick and Paul Baker, I have been able to comfortably perform my nursing duties, and I have not sustained any work related injury in the process. Marcia Wray, RN
---
Brandon
My name is Brandon and I am 11½ years old. I've been coming to Dr. Paul Baker's office for a short while. I started after my mom came in for treatment. I was dealing with headaches for a couple of years due to cracking my neck a few times throughout the day. Since I have been coming to Dr. Paul Baker for treatment, I have had NO headaches and rarely ever crack my neck anymore! Dr. Paul also has a funny way of making me laugh! I am telling anyone that has headaches or any body pains to come see Dr. Paul Baker……he'll make you feel better!
---
Cortright Family
After much speculation and debate, I decided to succumb to the circumstances and pay Dr. Baker a visit. My newborn daughter, Kendall, had severe feeding issues in that she would spit up most of what she ate at every feeding. In the hospital she would gag and gasp for air it was so severe. I was told that she was having these issues because she was born in less than 40 minutes and it was too quick for fluids to leave her system naturally through the birthing process, and that it would soon cease. After nearly one month of this happening I took her to the pediatrician who diagnosed her with severe acid reflux and prescribed Zantac. Administering this medicine (for the short time in which I did) was the cruelest thing I have done to any of my children. Although it did seem as if it helped slightly with her gagging and the reflux, the medicine itself was so potent that it would burn my eyes upon smelling it. When I (attempted) to give it to her she would gag, hold her breath and spit it right back at me, and her eyes would water also. After only a few doses, I didn't feel like the side effects of the medicine were worth the benefits, and that there had to be a better alternative. It was then that I was recommended to see Doc. The more I thought about Kendall's upcoming chiropractic experience, I began to think of other concerns I had. She was always holding her head to one side, and never seemed to develop neck muscles and head control as my other children had at her age. I wasn't quite sure if this was a cause for worry, but it was definitely something that I wanted to address. Our initial meeting with Doc was comforting, informative, and assuring. He addressed all of my questions, and assured me that this was my first step toward living a happier, healthier life for Kendall, myself, and the rest of my family. I was informed that Kendall had a case of Torticollis, and that with adjustments I would see great improvement. So I entrusted Dr. Baker, a father of small children himself, with one of my precious gifts from God and put her health and her future in his hands. For her first adjustment my initial nervousness quickly subsided as I witnessed something amazing. He held her softly between his hands and did his work, and as he did so, she smiled at him and cooed softly putting me to ease. She thoroughly enjoyed what she was experiencing and there seemed to be a weight lifted off my shoulders. Later that night Kendall was in great spirits, and seemed to be less fussy that usual. She was also holding her head up slightly better than usual. I initially played this off as coincidence until our return visits with Doc. The next time we went, I decided to get adjusted – after all, I had chronic back problems from a wreck and my 50lb+ weight gain from all of my pregnancies had not helped! I walked out of his office feeling like a new person. Instead of walking around and living with a constant ache, I felt something that could not be expressed in words – I literally felt nothing. Kendall and I visited Doc on a regular basis and after just a few visits Kendall's acid reflux had seen a tremendous improvement, and she was holding her head upright as if there had never been a problem. But, most importantly for the both of us, she began sleeping for more than three hours in a row! My other children have also begun reaping the benefits of chiropractic. My youngest son Kayden, who is two, saw Doc for the first time after an accident in which he received several staples in his head. Doc initially adjusted his neck, but after gaining Kayden's comfort and confidence, he adjusted his back as well. On several occasions Kayden has asked for "Doc to fix neck", and we went to see him!! He even knows the routine and sits patiently in his chair, hands in his lap, for his turn, and then runs to the table and positions himself accordingly for his back adjustments. My five-year-old daughter and son both have been adjusted and they too, have asked on several occasions to see Doc when they were not feeling well. My husband is a landscaper and does snow removal and is constantly on his feet, and constantly saying how badly his back feels. After just one visit he felt tremendously better, and will be returning especially with the grueling winter months ahead of him! There is no stereotypical chiropractic patient. We come from different backgrounds with different prior experiences, different symptoms, and different goals for relief. Everyone can truly benefit from chiropractic, as I have learned over the past few months, especially with my own family. We all have different symptoms and concerns ranging from acid reflux, constipation, head and neck trauma, ADHD, ear infections, and more! And yet, we all unite under one common ground, that being relief we seek from visiting with Dr. Baker. I have suggested to several family members and friends the benefits they too could achieve. I would never force or insist chiropractic care upon anyone. I would however, ask that anyone and everyone simply try it one time, and let it speak for itself. They too, would be a life-long patient of Baker Family Chiropractic! Thank you Doc, Jennifer, Danielle and Courtney for truly make a difference in all of our lives! We are eternally grateful! The Cortright Family, Angie, Kyle, Kylee, Will, Haley, Kayden and Kendall
---
Judy
Words are inadequate to express my deep gratitude and affection for the Baker Chiropractic Center family. I entered their doors with help walking because of the excruciating and debilitating pain in my back and leg. I met with Dr. Baker who immediately assured this blubbering mass of a broken person that he could help me. I was skeptical until talking with him, because three attempts with other professionals did nothing for me. I accepted his challenge and started treatment immediately, because I knew in my heart, that my healing had just begun. After two weeks I felt like dancing (of course, I didn't – I wanted to, but didn't). I am better, not only because of the knowledgeable and aggressive treatment of Dr. Pat and Darren (my massage therapist) and the helpfulness and kindness of Jennifer, Courtney and Danielle, but also because everyone assured me that they would get me well. Their consistent and uplifting attitude was reassuring and healing. Their friendliness was endearing. I feel like part of the family. I have also met many wonderful patients, as we share our stories with each other. My continuing treatment and rehab keeps me coming back. They will not release me until I am strong enough that this will never happen again. Then – on to their personal trainer at BEAT! I have become their greatest cheerleader, spreading the word to everyone I know who has a pain anywhere, to visit them, so they too can receive the healing that I have received over the past few weeks. Help me spread the word of this wonderful team – they are the best act in town! I've given serious consideration to dropping their business cards and pamphlets from an airplane over Cincinnati. As of this writing, my husband has not agreed to it yet. Keep looking up! With a grateful heart, Judy Gilman
---
Cathy
I was referred to Baker Chiropractic by my sister who has taken her children as babies to Drs Paul and Pat. My daughter Rachel had a back problem related to horseback riding and I was told by her pediatrician that she probably had a hairline fracture of her spine and could require surgery. The wait to get into a pediatric orthopedic doctor was 3 months. Spinal surgery for an 11 year old did not excite me at all to say the least, so I decided to put aside my personal fears of chiropractic care and trust my sister's recommendation to take Rachel to Baker Chiropractic. As it turned out, she had a pinched nerve in her back and got immediate relief from her first visit. After three visits, she had no more back pain! I also suffered from neck pain and low back pain and after seeing Rachel's successful treatment decided to 'take the plunge'. I had a large knot on the left side of my neck which went away completely after a few weeks of treatment. My back was so stiff, Dr. Paul almost broke his wrists trying to adjust it – okay not quite, but close! Now my spine moves as independent vertebrae instead of fused sections and feels much better! After speaking to Dr. Paul regarding my son Andrew (9 ½ years old) who has Sensory Integration Dysfunction, he convinced me they could help Andrew. The first visit for Andrew revealed that his hips were out of alignment which resulted in one leg being an inch shorter than the other. After just a few adjustments, Andrew's legs were very close to even and he has commented on how much better his hips feel. Andrew is quite certain that Dr. Paul and Pat's treatment will contribute greatly to his professional football career someday! Finally, my husband – ever the holistic skeptic, hurt his back moving bricks in our yard. I recommended (again and again) that he get adjusted by Baker and he finally did. His low back pain was immediately relieved. So we are now a family helped by Baker Chiropractic on a regular basis! Many thanks to Dr. Paul and Dr. Pat for their help and expertise and to my sister Carrie for her recommendation and confidence in their treatment! Thank you, Cathy Haynes
---
Carrie
I remember the first night in the hospital after having my first child being so happy to have a healthy newborn, but he cried all night long. Everyone told me the next morning that he was just "getting used to his surroundings". The crying did not get any better after we got home, as a matter of fact it got worse. As a few weeks went on he started to cry around 11 AM, and then was fussy and crying until 4 AM. I was so exhausted and the only way I could get him to sleep was sitting in my lap on his side on a Boppy pillow. That was very unsafe, but that was the only way I could any rest. The pediatrician's said he had a horrible case of colic. He had an abdominal ultrasound, and an upper GI to see if there was anything else going on. All the tests were normal. He was on 3 different medications and none of them seemed to help. The crying then moved to the car and he cried inconsolably in the car seat. I stopped going places. It was very hard. He did not sleep through the night until the week of his first birthday. I remember it like it was yesterday. If I had only known then what I know now. When he was 27 months old, we welcomed our daughter into the world. Everyone told me that "surely I would not have 2 kids that were that fussy, etc….this one would sleep." She didn't. When we came home from the hospital, she started to exhibit almost identical symptoms as our first. The crying started at night, then during the daytime, then in the car seat wherever I went. The big difference this time was that I had a 27 month old running around to watch after, I could not just lay down and "sleep when she slept" – which was not very often. Again, I stopped going places, it just wasn't worth it – she was screaming, then my son would start to cry because she was crying and pretty soon I was so stressed I would just go home. When she was 4 weeks old, one of my best friends talked to Dr. Patrick about my situation and she brought me a Chiropractic magazine where he had flagged some pages for me to read. I had not experienced chiropractic care myself, let alone heard of taking children to one. I was skeptical at first and scared. I mentioned it to my husband and a few others, and they were skeptical as well and seemed to be against the idea. I went another 2 weeks with no sleep, exhausted, and not going anywhere and then had had enough. So, I made an appointment, and did not tell anyone except the babysitter who was watching my older child. After her 5th visit, she stopped screaming in the car. She also slept for 5 hours that night. It was unbelievable. It was like this enormous weight was being lifted off my shoulders and I could live day to day again. Dr. Patrick said her neck and her lower back were really out of alignment. Since I had 2 kids that pretty much acted the same way, it makes me wonder if that was my older child's problem all along since nothing else helped him. She continued to go every week for 3 months; she was seen 22 times before Christmas and was doing great. She had turned from this unhappy, sobbing baby that would not sit a minute in the car to a happier, smiling baby. I felt like I had my life back in many ways and I of course was happier. She is now 3 and continues to go see Dr. Paul and Dr. Patrick. Dr. Patrick and Dr. Paul have also helped me in many ways, after seeing Caroline's progress – I became a patient myself. I was later in a rear-end accident suffering from whiplash, and I went for months and was able to recuperate from that accident as well. Then while being pregnant with baby #3, I fell on the ice while carrying the dog and injured my back. Here I was pregnant, with a 4 year old, a 2 year old, and I could barely walk. I had several pinched nerves and at times I was unable to put pressure on my feet. From time to time my left leg would just give out on me and I almost fell numerous times. If it had not been for Baker Chiropractic's care during the last 3 months of my pregnancy, I don't know how I would have ever made it. I would go to my visit barely being able to walk, and when I was leaving, I walked out like a normal person. Numerous times during that time I walked into the office in absolute tears and everyone in the office was always so friendly, caring and confident. I made it through the pregnancy and delivered a healthy baby boy. The first night in the hospital I was up all night with him. I remember crying in the hospital room, thinking "here we go again…how am I going to do this now with a 4 year old and a 2 year old?" When we got home, things did not change, and this baby cried in the car seat from day one. When he was 2 weeks old, we went to see Dr. Patrick, and sure enough, same problem as Caroline, but not as severe as hers. Within numerous visits again, he stopped crying in the car, and started to sleep. He is now 14 months old and still goes to see Dr. Patrick and Dr. Paul on a regular basis. Words cannot describe how thankful I am to have received such fantastic care and help from Dr. Patrick and Dr. Paul during so many difficult times. They helped me through some very trying times with several of the kids and with concurrent issues with my own health. I was able to have kids that were comfortable, would sleep again and were happy. I was also able to enjoy them, rather than having them cry all the time. I wish I had known when I had my first child; I truly believe he had the same issue and the first year of his life could have been more comfortable for him if I had known to take him. I have referred many people to them as patients as I am very confident in their abilities and know they can help so many others. Everyone in the office is always so nice, friendly and welcoming. Thank you to Jennifer, Sandy and Danielle for always being so sweet and helpful in the office. And again a huge thank you to Dr. Patrick and Dr. Paul for your years of care and help and to Lana for encouraging me to make the appointment years ago. I could not have made it through all this without Baker Chiropractic's help and care.
---
Rachel
A few months ago my infant daughter, Lorelai, was having severe gas pains regularly and she wasn't pooping very often. I took her into the Pediatrician when she was 4 months old and he said that it was normal for some breastfed babies to go 7-10 days between bowel movements and that she was okay. Then, when she was 5 months old, I took her to another Pediatrician since the problem had not gone away and was worse. I wanted to know what I could do to alleviate her pain. The doctor said that I should start her on regular foods (which I had put off starting because of the problem) and that the problem would most likely correct itself within the next MONTH! So, there I was with a five-month-old child who was having horrible gas pains on a DAILY basis and she wanted me to wait a whole MONTH for things to get better! I was really upset because this had already been going on for quite some time and we were at a point when neither of us could take it anymore. She was in pain and so was I because I hated to hear my baby cry when I couldn't do anything to help her. So, I asked my chiropractor, Dr. Paul Baker, if he thought he might be able to help me. He said he'd be more than happy to adjust her and he was confident he could help, so I brought her in. I was very hopeful, but didn't really know what to expect. Dr. Paul adjusted her back and neck and that night she pooped! We were thrilled because it had been so long since she had done that. I brought her in one week later and again, she pooped that night. Then she pooped the next morning and a couple more times that week. I went back each week for about 6 weeks and things just kept getting better and better. It really only took four adjustments before she was perfectly normal again. She is now a pooping machine and I couldn't be happier. She is 9 months old and as happy as can be! I can't remember the last time she had gas pains! It's a wonderful thing! I very much appreciate Dr. Paul and how great he is with my whole family and I'm grateful he was there to help me at a time when the Pediatricians didn't know what to do. It was truly an answer to our prayers. Thank you, Dr. Paul!
---
Chad Weber
I came to Dr. Baker back in February 2008. I was having neck pain and my blood pressure was elevated. After doing some x-rays, we found out my neck had no curvature, my hips were off by 14 millimeters which is a lot in the chiropractic field and my back needed some adjusting. Since then Dr. Baker has been able to eliminate my neck pain and reduce my blood pressure to a normal level. I'm scheduled to have follow up x-rays in September when I go to a monthly maintenance schedule. I'm sure my neck and spine will be greatly improved thanks to Dr. Baker. I also want to comment on Dr. Baker's staff. Jennifer, Courtney, and Danielle are some of the nicest people you will ever meet. They definitely make you feel like you're at home when you're in the office. They are always willing to help you and answer any questions that you may have. I wish more doctor's offices were like Dr. Baker's office.
---
Tony Schrank
I had been experiencing a nagging lower back issue for several months and the pain had reached a point at which I could no longer run (a life-long routine) or sit comfortably at work. During a conversation my neighbor Joe recommended Dr. Baker to me. Joe had been pleased with the improvement in his own back and leg pain as a result of treatments from Dr. Baker. I took Joe's recommendation and set an appointment with Dr. Baker. After reviewing my condition Dr. Baker described the treatment plan he would be using on me and began the process of fixing the issues that years of running had created. After only a few visits there was an immediate noticeable improvement and after a few weeks I was able to run comfortably again, sit without pain and felt generally better during any other activities. Dr. Baker and his staff were always friendly, helpful and professional. I appreciated the time that Dr. Baker took to explain my spinal issues using my x-rays to point out the areas that need attention and the treatment plan that he would use. The results were great and the positive attitude and environment that Dr. Baker and his staff create made the healing process simple and effective. I can, and have, recommended Dr. Baker and his staff to others. There is simply no reason to put off a visit when you are experiencing pain and discomfort. Thank you Dr. Baker, Tony Schrank
---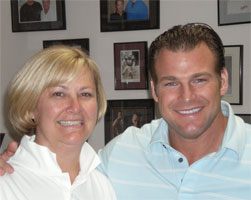 Severe Pain
As I walked into Baker Chiropractic all slumped over because of the severe pain, I was very skeptical as to what Doctors Paul and Patrick could do for me. It had, after all, been a week of misery with absolutely no relief from the prescribed prednisone. My poor husband was desperate to get his wife back into action. He was discussing my problems to a friend, and his friend told him about Baker Chiropractic. His friend's exact words? "They're the best in the city!" Boy was he right!!" After one visit, I was human again — far from being 100%, but I slept that night! When rehab began and Barry told me the average woman could lift 70 pounds, I was crushed. They had to take one five-pound weight OFF — I couldn't lift ANY weight now! Now, when I think back to that day (as I'm almost lifting 70 pounds), I am so grateful that this whole staff came into my life. Coming into Baker Chiropractic I feel great, as it's always a postiive and happy atmosphere. The staff and Doc Paul have always made me smile — even when I did not feel like smiling. It's been a great journey watching myself become stronger and knowing that I'm healing my back WITHOUT medicine or having to have gone through surgery. As you're sitting there reading this, don't question for one minute if you're doing the right thing — YOU ARE!! Thanks Baker Chiropractic!
---
Stephanie Garrison
When Brooke was three months old she was diagnosed with torticollis. Torticollis is the tightening of the muscles on one side of the neck causing the baby to took in only one direction. She was referred to start physical therapy right away. During our first visit with the PT, we were told torticollis could also cause a flattening of the skull on one side or the back of the head, known as Plagiocephaly. This looked like the direction we were heading, which would result in Brooke wearing a helmet for six months; 23 hours a day. When we started physical therapy they said it would take at least eight months to see any real improvement. Mind you, we were dealing with a very uncomfort.able, fussy baby which called for many sleepless nights. More importantly, how would this condition affect her development; her motor skills. Eight months seemed like an eternity. I was so discouraged and felt really helpless. One day I was talking to our home health care nurse about Brooke's condition and how I was feeling. She told me her neighbor's son also had torticollis and was treated by Baker Chiropractic. She said he was much more comfortable and sleeping a lot better and recommended I give them a call. I was a little skeptical. I had heard so many different opinions of chiropractic care, but at this point was willing to try anything. I can honestly say, this is the best thing I could have done for her. After only 10 visits, there is a dramatic improvement in Brooke's condition. She is like a totally different baby. To look at her now you would never know there was ever anything wrong with her. She holds her head straight, looks in either direction, (sleeps thru the night!!!) and is a much much happier baby. Needless to say, I am a much much happier mommy!! I recently took Brooke back to the PT and they themselves were quite impressed with the progress. Turns out, she won't be needing that helmet afterall. To go from facing eight long months of therapy, to results after 10 adjustments is such a relief and truly amazing. I was so afraid we would miss out on the joy of our baby's first year. I cannot say enough how grateful we are to Dr. Baker and his staff. Everyone there has been so great to work with. They are always so friendly and genuinely happy to see us. As a mother of four little ones walking into a doctor's office, that's not usually the response I get. Thank you so much for your dedication in helping Brooke. You have given us back those eight months and lifted a great weight off of our family – I just can't thank you enough for that!!
---
Michelle Tomblin
I met Dr. Patrick Baker through BEAT Personal Training. My family wanted to help me lose and control my weight gain and recommended me to BEAT. My younger sister actually made my first appointment for me and forced me to go. I talked to Dr. Patrick Baker one day after my workout because I was experiencing pain and numbness in my legs when I did certain exercises or sat on the floor. I also told him about my ATV accident from 6 years ago. Dr. Baker told me he could help me, said to come see him in his office and he would take care of it. So I did. That was almost two years ago. Dr. Baker is slowly straightening my "s" shaped spine and I am reaping the benefits of chiropractic care. I like to boast about the lack of allergies and sinus problems the most. I was prone to sinus infections 2-3 times a year and had severe allergies throughout the change of seasons. I am very happy to tell everyone I meet that chiropractic care helped reduce my allergies and sinus problems. I am a very satisfied patient and have referred several people, including my father, sister, and brother-in-law (all patients now). My heartfelt thanks goes out to Dr. Baker and staff and all the staff members at BEAT as well.
---
Casey Dutro
In January, Casey failed a hearing test due to fluid that wasn't draining from both of his ears after a double ear infection in December. The doctors agreed that surgery to insert another set of tubes and remove the adenoids was the solution. While these are both very common surgeries these days, I was still disappointed and frustrated not really understanding why this was the only solution. Another mother told me about holistic Chiropractic care as an option and referred me to Dr. Paul Baker. She said how wonderful he was with kids. I started doing research, reading books, and found there was a connection between the spine and ear infections that had many success stories. I got Casey in as quickly as I could start treatment. I was trying not to get my hopes up, but wanted to try it before the surgery. I wasn't sure if it would work in our situation. In the mean time, my husband asked our pediatrician about chiropractic care as an option for ear infections. While she said it was okay to try, she hadn't heard success stories about that type of treatment. Turns out Casey had a lot of compression of his spine (subluxations) right around his neck. This area does link up with the nerves that control the ears. The left ear is now completely free of fluid and the right ear (which was the worse ear) only has a little fluid left in it. We were all thrilled! My husband, still the skeptical one, wanted another opinion and evidence that Casey's hearing was okay. I scheduled another hearing test for a week later and his hearing was absolutely normal now! I have the before and after hearing tests that document the evidence! The audiologists were very curious about what kind of things a chiropractor could do to help with fluid in the ears. I swear it was the first time they had ever heard of it. Casey's adjustments have also helped that dreadful croupy cough he usually gets. While in Florida last week, a few of us had a cough. Casey coughed a little one morning and that was as far as it went. Usually, it would last another week to 10 days and keep him up at night. I have heard kids that get regular adjustments are healthier and have few colds that are shorter in length. With as sick as Casey has been most of his life and all the ear infections, I can't wait! I am so sick of having all the latest cold medicines with not much relief for either of my kids. Thanks for all your help! Amy Dutro
---
Rick Brown
I've been a patient of Dr. Baker's office for about six months and since that first visit, I've made a lot of remarkable changes. I came in with constant pain in my lower back and in desperate need of help. I now have no back pain and enjoy a much healthier outlook on life. Dr. Baker said something one day that had a huge impact on my outlook. He said, "You're in a body 24 hours a day so you should feel good in it and take care of it." That statement made me think about my health and fitness and helped sway me to join BEAT, the personal training program offered by Dr. Baker. In the five weeks since joining, I've lost 15 points and 4% body fat and feel better about life than I ever have. Everyone in the office makes me feel welcome and important and I always leave each visit in a good mood because of the positive environment. My wife and 10-year-old daughter are now patients and I tell everyone with pain to experience the help and benefits of chiropractic care and Dr. Baker. —Rick Brown, Internet Sales Manager, Superior Hyundai Fairfield
---
Ratri Reid
Ever since I started being a patient of Dr. Baker, he has helped me out so much. I have been a patient for about three months now and ever since I have felt great. I first came in with neck and lower back pains but as each week goes on, I feel better and better. Dr. Baker and his team always welcome me no matter what, which also adds on the making me feel so much better. I always tell people with pain to "Go see Dr. Baker and experience the benefits Baker Chiropractic gives all of their patients!" —Ratri Reid
---
Pastor James and Nichole Johnson
My wife and I both suffered back injuries due to accidents. She was first to discover Dr. Baker and always returned home touting his sincerity and skill. Consequently, when I became injured, it was only natural for me to seek his help. Through the weeks and months, Baker Chiropractic has provided us with consistent care, along with a pleasant and clean atmosphere. As a result, both our physical conditions have continued to improve, and we have made great strides towards becoming pain free. Through Dr. Baker's consistent therapy, I have been able to forego pain medications for over a month now and we are ever hopeful of being able to resume the normal activities of our lives. Dr. Baker and his caring staff went out of their way to make us feel like a part of them. Their attention to our needs has been unparalleled. Needless to say, we would recommend them in a heartbeat. —Pastor James S. and Nichole M. Johnson
---
Don Meiners
Anyone that has back pain, I can honestly tell you I understand; and those that don't cannot relate. I am physically active, run a business that is physically demanding and I thought my life was changed forever. Back surgery? Where is this going to leave me? I tried to deal with the pain, but it only got worse. My right leg started going numb, and it ached at the knee, then times at the ankle, the pain spot moved, and numbness progressed. A customer and friend I've known for some time (Sandy) recommended Dr. Patrick and staff to my care. I was apprehensive, thought I would need back surgery for sure! Dr. Baker is truly professional and thorough; he would not touch me until he examined x-rays to know what he was dealing with. I had two bulging discs – ask Dr. Patrick where! All I wish to share with you is: don't wait! Dr. Baker and staff are chiropractic, physically and mentally healing as well; it's a great environment! Thanks Dr. Patrick, Jennifer, Danielle & Andrea! —Don Meiners
---
Joe
I have been experiencing back and leg pain for more than six years. The medical and related therapy had not been able to solve the problems. My specialized doctor was considering back surgery, which my brother had done and highly recommend that this be my last resort. My wife and I were consulting with my friend and former neighbor (Don) on a landscaping item and he noticed that I could not stand for any length of time. He suggested I schedule an appointment with Dr. Baker and his staff. Since I had x-rays and MRI scans, Dr. Baker reviewed them and suggested the proper treatment. I started that same day. Dr. Baker and his staff have performed massages, electrical stimulation and chiropractic adjustments, which have solved many of my problems. I had one emergency problem, Dr. Baker and his staff handled it immediately without any advanced appointment. If you have problems, please do not wait. Dr. Baker and his staff are very professional in their chiropractic healing. A very friendly and great environment! Thank you Dr. Baker, Jennifer, Andrea, Danielle and Ryan. —Joe
---
Amelia
My name is Amelia Aiken and I am almost 16 years old. I found out at Baker Chiropractic in February of 2009 that I have scoliosis. Before I found out that I had scoliosis, I also had allergy problems, terrible headaches, and bad migraines. My problems got worse when my little brother started acting up, but since I have been coming to Baker Chiropractic my problems have been getting better. Dr. Baker is a miracle worker, because I thought my headaches would never go away. I found out that I also have subluxations and forward head posture. I came here first because I had an accident in the 2nd grade and it has been bothering me ever since. Since I started coming here, it has improved a lot and continues to get better every time I come to Dr. Baker. He is probably the best chiropractor anyone will have and should have. Thank you Dr. Baker!
---
Don't wait! Contact Baker Chiropractic today to get started with care.